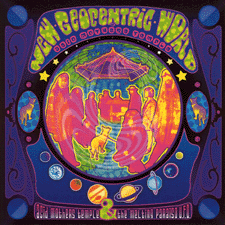 Source: Promo copy received from Squealer, I'm guessing August 2001.
Acid Mothers Temple already feel like a million years ago even though this came out less than a decade back; they produced such a glut of releases over the next five years that I had to cut myself off at some point. That said, I couldn't remember anything distinct about
New Geocentric World
as compared to any of their other releases; that said, I can't remember anything distinct about any of their other releases as compared to any of their other releases (you follow?) except for maybe
La Novia
cause it has the Italian singing on it. A shame, because I'm sure any and all of their records contain great great moments but they all fall into the dark chasm of my memory, chalked up to "too much, too soon".
New Geocentric World
opens with a tease of synth and voice but then expodes into the total freakout that you expect, sounding a Sister Ray taken to the next dimension (and also sounding like a lot of other things, but we won't go there). It's a bit too free jazz for me to trance out and stare at the album artwork (which is too small in the CD format but still cool cause it looks like it was created using the ol' IMPROCES.EXE for DOS).
I don't know if Acid Mom's would have aroused much interest if they were, for example, just a couple of fat dudes from Texas or Ohio making the exact same music and releasing the exact same records with the exact same artwork. I'm not saying this to be condescending or cynical, but Nipponese exoticism certainly was worth a bit in my world of 2001. I caught them on the tour for this album, which I remember being powerful and overwhelming and a bit cathartic (occuring just after 9/11) but then again, I was looking for art to be powerful and overwhelming and carthartic then. I do rememer them playing one repetitive, melodic riff for about 25 minutes straight to open their set, and then later doing it again as an encore. Which is kind of what 'Psycho Buddha' (the opening track) is like, except minus the focus or melody. And it finally ends and we get into some of the smaller group tracks, like 'You're Still Near Me Everytime' which is a dissonant soul song with Haco wailing overtop. It's totally like Kenneth Higney fronting Dzyan. 'Universe of Romance' is centered around a melody on some traditional instruments but with fucked up synths and in-and-out vocals; in some way it anticipates the free-folk trends in mid-decade American underground music.
But then 'Occie Lady' takes you to a Nagoya bar-b-q where they octopus balls are cooked well-done. 'What Do I Want To Know (Like Heavenly Kisses part 2)' is the big ambient organ jam that sorta ties everything together - maybe the mirror image of 'Psycho Buddha' or maybe it's just everything else from the record put into a blender. Shades of Terry Riley, Fursaxa, Windy and Carl, and most of the early Kranky Records roster, all culminating in some tender ambient guitar work that is probably the most traditionally lovely sounds on the whole (long) disc.